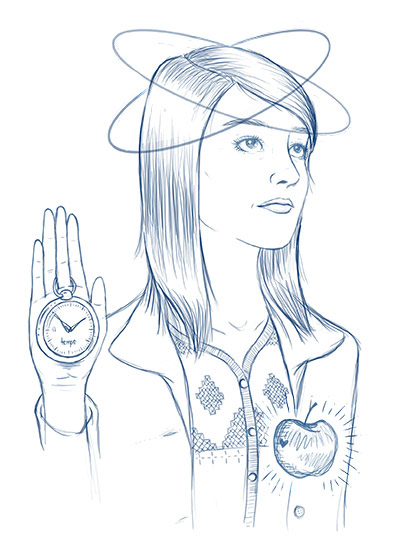 Julia Back é designer, ilustradora, uma cabeça pensante e um par de mãos à obra.
Sou também freelancer em tempo integral. Se você gosta do que vê neste site, e precisa de alguém criativo e bastante comprometido para trabalhar com ilustração e projetos de design gráfico com este foco, entre em contato! Será ótimo contribuir com seus objetivos.
Atualmente moro em Porto Alegre, e sou graduada em Design Gráfico pela Universidade Federal de Santa Catarina. Tive também a oportunidade de estudar Ilustração na University of the Arts, em Londres. 
O Universo, as estações, a noite e o dia. Estas são minhas inspirações. Acredito no valor do respeito entre todos os seus componentes e que nada deve ser realizado sem um devido cuidado.
Um belo dia entendi que no Design a Arte pode encontrar a Ciência, e aí as contribuições se tornam infinitas. Para todos. Estudar e pesquisar são meus motores. Cada novo projeto é uma razão para meu mundo girar.
Sou curiosa, perceptiva, observadora e produtiva. Criação é o meu forte, e faz muito mais sentido quando é importante também para você.
____________________
Julia Back is a graphic Designer, an illustrator, a thinking-head and a pair of hands on.
I am also a full time freelancer. If you like what you see in this portfolio and if you need someone creative and committed for illustrations or graphic design work focused on illustration, get in touch! It will be great to contribute to your goals.
Recently I've moved to Porto Alegre. I've graduated in Graphic Design at UFSC (Universidade Federa de Santa Catarina). I've had the opportunity of studying illustration art Camberwell College of Arts London (UAL). I've worked with the biggest newspaper of my state, Diário Catarinense, and also in one of the best brazilian motion studios, Media Effects. 
The Universe, the seasons, the night and day. They are my inspiration. I believe that every component of this World is worthy respect, so nothing should be done without a proper care.
I've been told one day that it's whithin Design that Art meets Science, and then contributions are infinite. For everyone. My engine is to study and research, so every new project is a reason for my world to spin.
Lastly, I'm curious, perceptive, observant and productive. Creative work is something I do well and it makes  more sense when it is required by you.